Local Area Network or
"LAN parties"
as we call them are still a relevant and viable way to socialize through gaming. From weddings to friendships, LAN events are happening worldwide and seem to be picking up steam. As games grow in popularity - and with a focus on multiplayer - we won't see this niche part of the gaming community die off any time soon.
Back in my day...
I don't know when the first LAN party was, but for me it began with
Goldeneye 007
on the Nintendo 64. All our friends would bring over TV's, consoles, and necessary copies of the game. For the next 24 hours, our worlds would consist of nothing more than finding that golden gun, drinking mountain dew, and tournament brackets.
I've took part in
WoW
parties that consist of sitting around a large table and doing raid, after raid.
Halo: Combat Evolved
parties are some of my fondest memories. What I recall about all these events are the friendships that grew from them. Spending that much time cooperating with people creates bonds. Sometimes connections that last a lifetime.
For instance, there is an annual convention called
QuakeCon
. It is a yearly convention held by
ZeniMax Media
to celebrate and promote the major franchises of id Software and other studios owned by ZeniMax. It includes a large, paid, bring-your-own-computer (BYOC) - or LAN party - event with a competitive tournament held every year in Dallas, Texas. The event is named after id Software's game
Quake
, which sees thousands of gamers from all over the world every year to celebrate the company's gaming dynasty.

During the 2013 QuakeCon, there were multiple wedding proposals. The first happened on August 2, and the official
QuakeCon Twitter account tweeted
about it.
The next two proposals happened on one of the biggest stages in QuakeCon. During the QuakeLive Finals party on the Ventrilo Main Stage, John Romano proposed to Katy Grimm. It happened when Romano was already on stage. Instead of champagne, the couple appropriately opened up cans of Bawls energy drinks.
The final proposal happened when Mark Cousino and Hannah Miller were on stage competing in one of QuakeCon's "real life mini-games." While attempting to complete their ribbon-based task in front of the crowd, Cousino slipped a ring on his now fiancée.
Where in the world...
There are several similar massive LAN events that take place all over the world. Some  are much smaller and come in the form of cafe's, internet shops, or in someones home. Over in Jonkoping, Sweden an event called DreamHack, now holds the world-record for the largest LAN party ever with
17,403 gamers
in attendance. That's an awful lot of people consuming energy drinks and not bathing.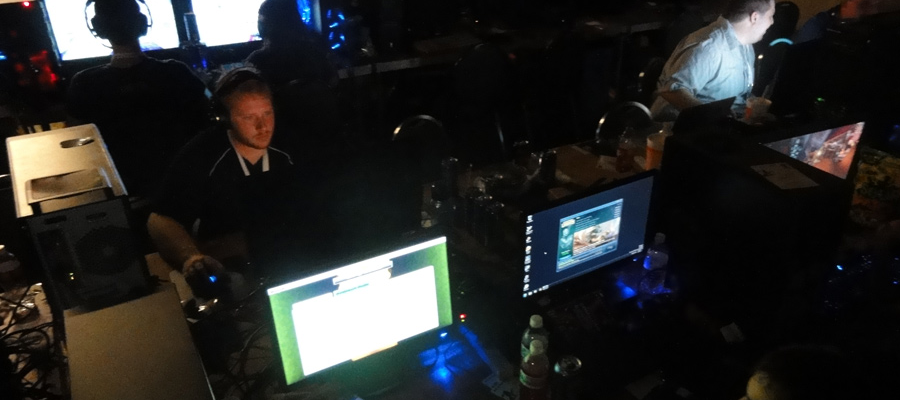 In North America alone there were over 80 LAN/console parties and tournaments during 2013. There are already numerous
LAN parties and events planned for 2014
. Despite the plethora of these social gaming parties taking place, some people tend to think the demise of this community is inevitable.
What people are saying...
According to
Cronicgamer
, "
The Fall of the Lan Party
" is happening due to the internet. Though the internet may provide multiplayer matches from the comfort of your own home, nothing can replace the feeling of seeing and talking with another human being. Sharing that experience is irreplaceable and incredibly unique. If anything, the internet is helping people connect in ways they couldn't in the past.
Browsing through
forums
about the different experiences people have are intriguing. Here are a couple responses to the question "
What is the best LAN party you've ever attended? And what made it the best?
"
"For me it is a bit of a tie between Quakecon 2008 and Quakecon 2011. '08 was my first QC but '11 was with some great friends and a lady friend at the time who loved games. It was quite memorable for all the SWAG I obtained which included a free game! There have been some smaller ones that are up there, but those are my top ones."
Some even have fond memories of awkward situations during tournaments...
"Played a bunch of the more common LAN games (Counter Strike, Civilization, etc.) One of the tourney games was Halo CE. Though I lost to the host - since he's the host he couldn't win any of the sponsored prizes - so I stuck my hand in the prize jar, and got the one Cooler Master CM Storm case! There was a guy there who asked me 'Do you really need that case, though?' Looked at him, went over to my current case, and opened the door. (The door hinges on that case were broken.) When I went to open it, it just kind of fell off the case... I didn't have to say anything more."
In a
blog
, this person had this to say about QuakeCon 2011:
"Walking along the QuakeCon BYOC is a little bit of a wonder. The loud roaring heart of what makes this convention a success is the epicenter of activity. This is truly a hemisphere-uniting event with cultures, dialects, and tastes in fashion (or lack there of) fusing into a melting pot of cool blues with howling yells that are patterned by the spinning of cooling fans…  If you want a snapshot of the youth, of the blending of ethnicity and taste, I dare you to find a better, more accurate presentation in the industry today."
Bonus Points!
Though a focus can sometimes be on the various prizes. As these social events occur, money is sometimes the focus of the gathering, but not always in a selfish way. Several events take place in hopes of raising money and food. Organizations like
Gamers For Giving
,
PDXLAN
, and
Headshots from the Heart
, donate to help children, medical research, and to provide food for the less fortunate.
Don't forget where you came from...
With games finally breaking into the mainstream, the number of people willing to participate in
LAN gaming
grows exponentially. The reason we have online multiplayer is to recreate LAN parties. Remember, before that thing called the Internet, people had to walk both ways up a hill with their rig/console in a back-pack to game with a friend. With record-breaking attendance numbers happening, one can only assume this is a community that's far from dying.
The diverse amount of people who attend these events proves that gamers from all regions, backgrounds, and classes are able to unite under one roof for a common love of games. The excitement and appeal that comes from gathering with thousands of like-minded people will never grow old. As long as people spend days forging friendships through LAN gaming, we will see this phenomenon grow in popularity.
@Coatedpolecat